Varanasi Tour- The Path To Enlightenment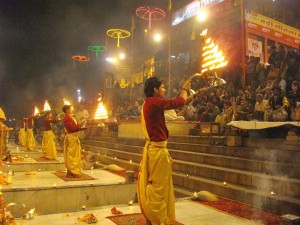 Aarti at Dashashwamedh_ghat
Assailed by the profound urge to take a step forward on the path of 'learning' I with one of my close friends Shivani landed in Varanasi. I went there with a seeking mind and deep inside my heart I was sure that I will experience something great here. This was my first visit to this most famous spiritual center of India. I had heard a lot about this 'city of life' and was here to learn something about life.
Varanasi, also known as Banaras and Kashi, is one of the oldest cities in the world. Beautifully located on the banks of the sacred river Ganga in Uttar Pradesh, this city is the ultimate pilgrimage site for the Hindus. The legend goes that this city was founded by Lord Shiva and it also finds mention in several Hindu scriptures such as Rigveda, Skanda Purana, Ramayana, and the Mahabharata. The history of this city dates back to around 5,000 years. Symbolizing Hindu renaissance,Varanasi is the center of knowledge, culture, spirituality, philosophy, arts and crafts.
We arrived at Varanasi in the early morning. We were booked in the 'Palace on Ganges', a heritage hotel which is ideally located on the banks of one of the ghats of holy river Ganga at Varanasi. Post breakfast we headed towards the ghats of Varanasi, which are around 80 in number. The sight of countless temples, pilgrims bathing in the holy water and sadhus engrossed in their bhagti was truly overwhelming.
It is believed that by taking a bath in the holy river Ganga at Varanasi frees one from the cycle of birth and death. With that faith I and Shivani took a dip in the waters of holy Ganga and it was such a great feeling which can't be described in words. After that we went for a boat ride and passed through various ghats. The cool air and an ambiance steeped in peace and spirituality was a great thing to experience. We also came across the ghats where cremation is done. Well all I can say is that Ganga ghats are the places where we can actually see life and death together.
The evening aarti was something I was eagerly waiting for. We came to the famous Dasaswamedh ghat which is famous for evening aarti. After participating in the aarti we sat at the ghat for sometime. The view of the thousands of earthen lamps immersed in the waters of the sacred Ganga was simply uplifting. The ghat was shining brightly like a jewel. What a wonderful feeling it was to sit at such an amazing place, completely steeped in beauty and peace.