Day 5 – Jaisalmer, A Sandy Desert

Our next halt was in Jaisalmer, which lies in the heart of  Thar desert. It was founded by Rawal Jaisal in 1156 AD. Traveling by palace-on-wheels enabled us to admire the majestic forts, the  ancient havelis and the rich culture of Jaisalmer.
Our first stoppage was made at the massive Jaisalmer fort. This fort is  renowned for being the second largest fort in Rajasthan. Beautifully adorned with exquisite architecture, the fort offers a spectacular view of the desert below.
After that, we got to see some of the finest examples of stone architecture through The Nathmalji-ki-haveli, Salim Singh-ki-haveli and Patwon-ki-haveli. All of them showcase the outstanding craftsmanship of the skilled stone carvers.
Nearby there is a Government-run emporium where we stopped for some shopping. This emporium has something for everyone. We had our lunch and rest for sometime, while some tourists enjoyed shopping. The popular shopping items include pattu shawls, wooden boxes, trinkets, silver jewellery, mirror work and embroidered articles.
After lunch, we decided to go for camel ride on the sand dunes of amazing Sam. It was really exciting and enjoyable too. We enjoyed the dinner with the cultural porgramme and at night, the train left for Jodhpur.
Day 6 – Jodhpur, the second largest city of Rajasthan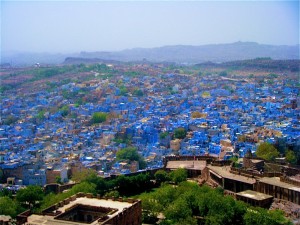 Jodhpur City
Next morning, we were in Jodhpur, the sun city of Rajasthan. We were amazed to see the mesmerizing landscapes and magnificent monuments. As we entered the Mehrangarh Fort, we could realize how rich India was in its architecture. The guide told us that it was founded by Rao Jodha in 1459. We visited the palaces, museum and galleries of this majestic fort. Moti Mahal, Phool Mahal, Sheesh Mahal, Sileh Khana and Daulat Khana are some remarkable examples of architectural excellence.
Near the fort, Jaswant Thada lies with a group of royal cenotaphs, carved out of white marble.
We relished our lunch at Palace hotel and then planned for shopping. While shopping in Jodhpur, we come across some exquisite handicraft items such as metal curios, silverware, paintings, embroidered shoes and tie and dye fabrics. Thinking of the marvel of architecture that we saw in Jodhpur, we returned to the train.
Day 7 – Bharatpur / Agra
Bharatpur – A Beautiful City
After bidding good-bye to Jodhpur,  the Palace on Wheels arrived at Bharatpur in the morning. The city is an avian paradise. We heard a lot about the bird sanctuary in Bharatpur and after breakfast, we were there. Known as Keoladeo Ghana National Park, the sanctuary is a nesting place for thousands of Egrets, migratory Water Fowl, Siberian Cranes and many other species of birds.
We also had enjoyed there the park trails by walk and then left for Bharatpur Palace.
Bharatpur Palace is the another attraction of the city. This palace is a fusion of the Mughal and Rajput art which has now become a museum presenting collections dating back to the second century AD. We had our lunch and headed towards Agra.
Agra- The City of Architectural Marvel
Upon arrival, we left for the famous Agra Fort. We all were eagerly waiting to visit  Taj Mahal which is known as one of the seven wonders of the world. It was as marvellous as we had heard. Built by Emperor Shah Jahan in memory of his beloved wife Mumtaz Mahal, Taj Mahal is truly an architectural wonder. Agra is also known for its outstanding marble inlay work such as the Pietra Dura work on the Taj, leather goods and jewellery items.
Day 8: Back to Delhi
In the late evening we left for Delhi. Upon arrival at Safdarjung Railway station, we had breakfast on board. Collecting the pleasant memories of the wonderful week, we came back. It was indeed a lifetime experience.