Tajmahal Agra Tour – Admire the Architectural Brilliance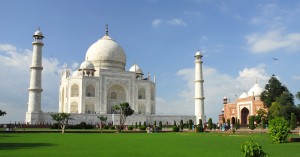 Tajmahal Tour
My curiosity to see Taj Mahal took me to Agra last month. The city which truly reflects an affluent cultural of the glorious past of India simply fascinated me. Located on the banks of Yamuna river, Agra is famous for its outstanding monuments.
One of the most famous monuments of Agra is Tajmahal. The name 'Taj Mahal' itself describes its grandeur. I was really willing to catch the beauty of Taj Mahal since my teenage years. So, it was the most-awaited time for me when my wish got fulfilled by visiting Agra. On being reached there, I was enthralled by the charm of this architectural wonder. The mysterious appeal of this famous monument really mesmerized me during my Taj Mahal Tour.
This white marble made wonder changes its expression with each passing hour. While blazing brightly in the sunlight, Taj Mahal offers a truly memorable sight in the night. I forgot all the tiredness as I felt the romantic ambience of Taj Mahal.
History of  Tajmahal
The knowledgeable guide told me about this wonderful monument, which is known as the epitome of love. This spectacular building was built by Mughal Emperor Shah Jahan in the memory of his beloved wife, Mumtaj Mahal. The construction of this gorgeous monument took 20 years to complete.
I also visited the tomb of Itimad-ud-Daulah, located about one and half kms from Taj Mahal. It was another example of finest architecture of olden times.
Agra Fort
After seeing Taj Mahal, I went for another tourist destination Agra Fort (Also known as the Red Fort). Built by Akbar in 1565, this fort is one of the best examples of Mughal architecture style. Inside this massive fort, you can see various buildings like Pearl Mosque, Jehangir's Palace, the Diwan-E-Aam (Hall of Public Audience) and Diwan-E-Khas (Hall of Private Audience), Sheesh Mahal (mirrored palace), Khaas Mahal and Musamman Burj.
It remains open for tourists from 7:00 a.m in the morning till 6 o'clock in the evening.
Fatehpur Sikri
I wanted to explore more, so headed towards another famous monument Fatehpur Sikri, situated about 37 kms from Agra. It houses the shrine of revered Sufi Saint Saleem Chisti.
When you visit all these monuments you will realize how exceptional skills of the workers of that time had even when there were not much facilities like today. Even though, the outstanding architecture of the old monuments will not let you believe it.
I also paid a short visit Akbar's Tomb at Sikandra, at a short distance of 4 kms from Agra. The tomb comprises the characteristics of airy tiered pavilions of the Agra Fort.
All the monuments I visited in Agra was created so heartedly that their architectural beauty simply touched my soul!