Taj Mahal Where Eternal Romance is Etched in White Marble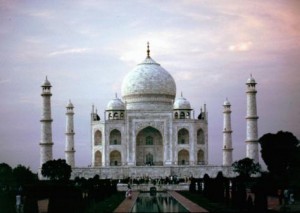 Tajmahal
The brilliance of forts, palaces, tomb and mausoleum are the popular drawcards of Agra which lured scores of tourists since centuries. It is one of the most sought after destinations of India Tourism famous worldwide for the Taj Mahal which is the undying symbol of love. Though I had heard, read and listened about this place since my childhood days but never visited this land of romanticism ever before. Last weekend my friend insisted me to visit this place and on Friday night we left for Agra.
Early morning after taking refreshment at my friend's house we went to see Taj Mahal, 'the epitome of love' and 'a monument of immeasurable beauty'. The moment we entered in the premises we were stunned by the imposing beauty of this grand structure. The beauty of this magnificent monument is beyond the scope of words. The thoughts that come to my mind while watching the Taj Mahal of Agra are not just about its phenomenal beauty but are also about the immense love of Mughal Emperor Shah Jahan for his beloved wife Mumtaz Mahal which was the reason behind its construction.
When I touched this epitome of love and romance, I felt its charismatic feature and realized that why it is so much famous round the world. The construction pattern of Taj Mahal is a fusion of Persian, Central Asian and Islamic architectures which make this monument a stupendous one. The principles of self-replicating geometry, along with symmetry of architectural elements can also be seen in the design and layout of this edifice of love.
Delicate pierce work, Arch of Jali, Inlay detail, Incised painting, Calligraphy and Herringbone are the ornamentations done on the surface of Taj Mahal. Though all these pattern of decorations are metaphor complementing this building of love but the Calligraphy work impressed me the most. The Calligraphy of the Taj Mahal mainly consists of the verses and passages from the holy book of Koran. It was done by inlaying jasper in the white marble panels. Out of 114 verses and passages of the holy Koran one can find 15 verses and passages on the wall of Taj Mahal.
This monument is the culmination of human imagination which took 22 years to be built by 20,000 skilled artisans. It is a monument of enduring love which reveals its mystery and charm when one visits it without being in a hurry. From morning till evening we stayed here seeing, analyzing and discussing its various features. The backdrop of river Yamuna and foreground of beautiful Mughal Garden add extra charm to this tombstone. Though we were physically exhausted but the soul stimulating beauty of Taj always refreshed us and insisted us to explore some more hidden aspects of this flamboyant structure.
The beauty of Taj Mahal fascinated us for hours and finally we adieu this splendid monument with a promise to visit it again. It is not possible to decipher the hidden love, romance and beauty of the Taj Mahal in a single day, though visitors do this but for me it is not the matter of a single day. After coming out from Taj Mahal premises we returned to our friend's house where we had lip smacking food in our dinner which was cooked by my friend's mother. The whole night I remained engrossed in the beauty of Taj Mahal which was lingering in my mind.