South India-The Land of Remarkable Temples Part-1
I still remember the day when my father planned a South India tour. We, all five members of the family were really excited because for one or another reason, the tours earlier planned by us got limited to just planning only. It was for the first time when my whole family accompanied me on this 18 days tour.
Well, we reached Chennai by flight from Delhi. On being reached and welcomed there in the evening, we were transferred to a good hotel. Believe me, staying out with your family is a wonderful experience. Next day, the tour started with morning city tour of Chennai.
While visiting the Fort St. George, we realized that we were in a new world. Beautifully surrounded by cannon-proof walls, the fort reminds one of old era. Within the fort, we came across little St Mary's Church and Protestant church. The day was good and we returned to hotel in night.
Next day, we embarked on a full day sightseeing tour of two famous cities-Mahabalipuram and Kanchipuram. There we reached Kanchipuram, the Golden City of a Thousand Temples. I was too delighted as I love to explore religious spots and there I was.
We all visited some temples of 7th and 8th centuries like the Vaikunthaperumal Temple, Ekambareshwar Temple, Kamakshi Temple and Kailashnath Temple. My father who has a great interest in exploring new places, shared his knowledge with us about the temples. It reminded me of my childhood days when we all siblings used to sit beside my father and heard many religious stories.
Well, we moved ahead and shop around Kanchipuram. Embellished with striking patterns there are fine silk saris and my mother could not help herself buying one.
At Mahabalipuram, we came across several attractions related to Mahabharata age. There is exquisitely rock cut temple, known as Five Rathas, dedicated to Pandavas and Draupadi. We also saw 'Arjuna Penance', which is a group of elephants.
Next day, we headed towards Pondicherry. This union territory is situated within the state of Tamil Nadu.
Based on our experience, I can say that the city is like a living monument of French culture in India.
We got an opportunity to visit The Aurobindo Ashram, where we meditated for some time. It was a great experience. The tranquil ambience of the Ashram fills your heart with calmness and peace. 'Auroville', the international township was also became a part of my exploration.
Our enjoyment, and curiosity was piqued with each passing day. The next day started with paying a visit to Tanjore, where we visited a big temple, dedicated to lord Shiva. Another attraction which we visited there was Tanjore museum. It houses a beautiful collection of South Indian sculptures and paintings.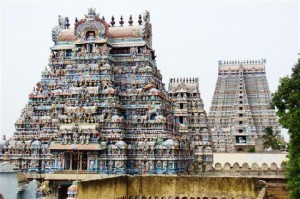 Sri Ranganathaswami Temple
In Trichy, we came across several worth-admiring temples. Located on 83 m long rock outcrop,  Rock Fort Temple, showcasing the finest example of architecture.
We also visited Sri Ranganathaswami Temple, which is 7 km from Trichy. It is said to be the abode of Sri Ranganatha. It is said to be the largest temple in India. Visiting temple was already a great delight and moreover, the magnificence of temples just left us amazed.
To be continued…