South India Forts and Palaces Tour-Part 2
Our hearts were filled with enchantment and golden memories after exploring and experiencing the charm and glory of the forts and Palace of North India. There was some more enchantment awaiting us in South India. Our next destinations which we had to cover were Golconda Fort in Hyderabad and Mysore Palace in Karnataka. These are among the famous attractions of South India. No wonder South India and its attractions boast distinguishing features that give them world-wide popularity.
Golconda Fort, Hyderabad
Hyderabad was once the princely city which was founded by Muhammad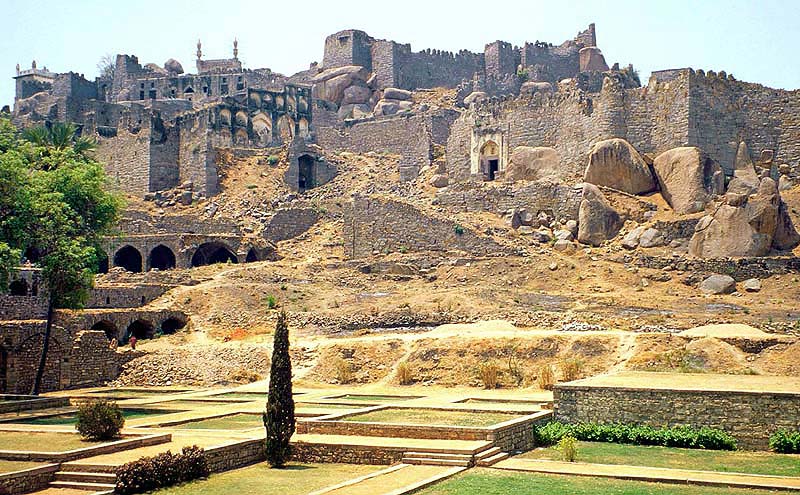 Golconda Fort
Quli Qutb Shah in the year 1591. Golconda Fort is one of the magnificent forts of India whose history dates back to the 13th century. Standing amidst rustic surroundings the fort is now in ruins but still holds its old world charm. The most distinguishing feature of this fort was the perfect acoustical system by which a hand clap sounded at the fort's main gates was heard at the top of the fort.
Initially the Golconda fort was made of mud and later it was reconstructed in stone. Several additions were made to it by several rulers over the centuries. Located on a hill the fort looks very picturesque. It has 8 gates and the main gate is known as Fateh Darwaza, Gate of Victory. The door is dotted wit steel spikes for protection against charging elephants during an attack. The fort complex houses a palace, a parade ground, a mosque, an armory and several other buildings. The light and sound show held here unfolds the glorious history of the fort. This show is presented in English, Hindi and Telugu.
Mysore Palace
Mysore is affectionately dubbed as the city of palaces. The Mysore
Mysore Palace
Palace is the most famous attraction of this royal city. The palace was built for the Maharaja of Mysore in the year 1897. The majestic exterior and breathtakingly lavish interiors of the palace leave the onlookers awe-struck. The architecture of the palace is a perfect amalgamation of traditional Dravidian and Indo-Saracenic styles of architecture. The majestic domes in pink, huge pillars, beautiful cupolas, arches and minarets and exquisite carvings of the palace are some of its attractions. The palace looks staggeringly beautiful on Sunday nights when it is illuminated with thousands of bulbs. It is one of the most splendid palaces of India.
The palace has been transformed into a museum which houses royal articles like paintings, royal costumes, jewelry etc. This palace displays the largest collection of gold items.
In the evening we hit the colorful bazaars of Mysore and bought some wonderful handicrafts. We also bought some Mysore Pak( a sweet dish) which is a specialty of this city. Mysore is also famous for its sandalwood, silk sari, perfumes, incense sticks, brass ware and rosewood items. Shopping in Mysore marked the end of our journey to South India forts and palaces tour.