At an unearthly hour my phone rang. I reluctantly dragged myself
Shimla City
out of the deep dreamless slumber to receive the call. It was Monika, a friend of mine who I affectionately call 'my travel comrade'. She is one person in my entire social network who inhabits my world ( a world overflowing with the passion of traveling). Before I could even finish saying 'what happened, everything alright' she interrupted in between and said "I and some of my friends are going to Shimla next week. I am sure you are coming". Her 'am sure' clearly reflects how well she knows me. Of course, my answer was 'yes'.
The next thought that crossed my mind was 'what about the boss'? Well here I am not talking about taking my boss along (the only thing I like about him is  the presence of his absence). The question was how to ask for 5 days leave. Anyway I was sure I will somehow manage to open up my boss's Buddhahood, as these five days were the steps for me to Nirvana. For me traveling is tantamount to Nirvana.
After a not-so-bad journey by car, we a group of 7 people ( Monika, Tahir, Shakeel, Sanjog, Abhishek, Deepika and me) reached Shimla, the Queen of Hill Stations at around 8:30 pm. We were booked in the Clark's hotel, which is one of the finest hotels in Shimla.
Post breakfast, we set out walking towards mall road and enjoyed the healthy and soothing environment of Shimla to the hilt. How much we crave for such a pollution free environment in Delhi. It is a perfect place to unwind.
Our first halt was Mall Road, the main shopping street of Shimla.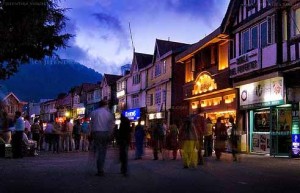 Shimla Night Life
The interesting thing about it is that no vehicles are allowed on this road, which allows tourists and locals to move about easily and freely. It was constructed during the British rule. It is lined with many showrooms, departmental stores, restaurants, stalls and emporiums. This is the best place to shop for the colorful handicrafts of Himachal Pradesh. From beautiful shawls to pottery items, all are available here.
Post lunch we headed for our next destination, the Ridge Road, which runs east to west alongside the Mall Road. On its east side it leads to Lakkar Bazaar, a wooden craft market. The Ridge Road offers mesmerizing views of the majestic mountains. Other attractions here are the neo-Gothic structure of Church dating back to 1844 and a tudorbethan styled library built in 1910.
In case you wish to get photographed in a typical Himachali dress, colorful traditional dresses are available here on rent. After a lot of struggle to choose the best one for myself, I found an attractive fiery red dress. Deepika chose maroon. The experience was overwhelming.