Day 2: Shimla Jakhu Temple- An Unusual Experience!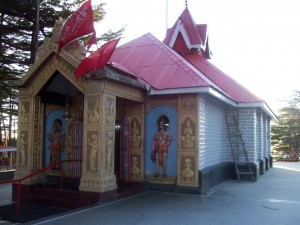 Jakhu Temple
Next day our morning started with a leisurely walk down the winding lanes of Shimla. Our hotel was located at one of the highest points in the city, which was a great advantage. The mountain air was cool and fresh, which was an attraction in itself. And the picturesque views of the hills and valleys were simply overwhelming.
Post breakfast we headed for the famous Jakhu Temple (Monkey temple) of Shimla. It is located at an altitude of 2500 m, which is the highest point in the city. Dedicated to Lord Hanuman, it is an ancient temple. According to the legend when Lord Hanuman was searching for the Sanjivni Booti to revive Lakshman in the Epic Ramayana, he rested here for some time. The temple serves as a venue for a grand festival during Dusshera.
The path leading to the temple is steep. It takes around 45 minutes to climb to the temple from the Ridge road. And one can go to the temple on foot or can hire a pony/horse. We chose to go on foot and really enjoyed the arduous path and the views of the wonderful surroundings. But no doubt the steepness of the path really challenged out fitness. Although I felt tired after reaching the temple but at the same time I felt victorious because I could complete the trek in 35 minutes.
Before starting the trekking to the temple we read the board, which says, 'if you are under 30 and complete the trek in 40 mints or less you are 'Fit'. Other categories were also mentioned. The temple seems to be an abode of monkeys. They were everywhere. Seeing so many monkeys we became a little careful about our belongings as people say that the monkeys snatch away whatever they like. It is said that these monkeys don't attack people unless fiddled with.
When we were coming back from the temple a monkey cleverly took off Tahir's glasses. We kept following him in a hope to get the glasses back. We gave him a bunch of bananas and finally he gave back the glasses to us. We were amazed that the monkey didn't do anything to the glasses. May be he was very clear about his goal, which he could easily achieve. Seeing this drama Sanjog commented, " No wonder monkeys are our ancestors and and are much smarter than us".