River Rafting in India
River rafting is one of the popular adventure activities among adventure lovers. It is full of fun, thrill and excitement. The foothills of the Himalayas is the perfect place for water rafting because of unstable currents of the mountain streams. Large number of tourists prefer white water rafting as it provides unlimited fun and enjoyment. The untamed mountain streams form an intricate network which passes through rocky banks and crevices. Some of the rivers which are known for rafting are Mandakini, Zanskar, Kalisor, Bhagirathi, Teesta, Indus, Alaknanda and Bhilangana.
The famous destinations for White Water Rafting in India are
Rafting On Zanskar River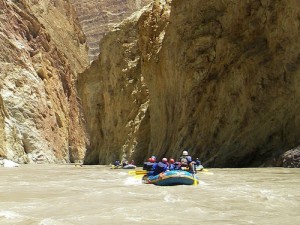 Zanskar River Rafting
Zanskar River is the most difficult and exciting white water rafting River Rafting In Ladakh, Jammu and Kashmir Ladakh is the popular destination for white water rafting because of the presence of several mountain streams. Indus River and its major tributaries are the best places for water rafting. Indus river between Spituk and Saspol is the ideal place for enjoying the fun of rafting. Beyond Saspol the river becomes more turbulent which makes it difficult for beginners to indulge in river rafting. But for skilled and trained rafters it is a good place for enjoying the fun of this adventure sport.
destination in India which calls on good number of skilled rafters from several parts of the globe. This river has spectacular gorges between Padum and Nimo region which heightens the fun of rafting. This turbulent river is for the skilled and trained rafters. It is suitable only for well organised white water expeditions.
Rafting On The Ganges River
Garhwal region in Uttaranchal is the best place for water rafting in the sacred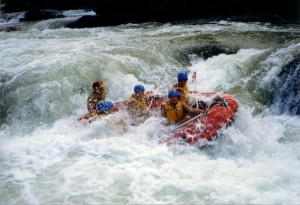 Ganga River Rafting
river Ganga. This river is a good place for both professional as well as the amateur rafters. Ganga near Rishikesh is a popular spot for white water river rafting. This place has 36 km long stretch for rafting which begins from Kaudiyala and ends at Rishikesh. Large number of tourists come here to enjoy the fun, thrill and excitement of this adventurous activity.
Rafting in River Tons
River Tons is the biggest tributary of Yamuna which originates from the  Bandarpunchh Mountain range at an altitude of 20,720 feet above sea level. This river is counted among the most challenging white water rivers which attracts rafters from several parts of the world. The river passes through dense forest and deep gorges which provides tourists an opportunity to feel the charm of nature.