With an ardent desire to see the big striped cat, I with some of my friends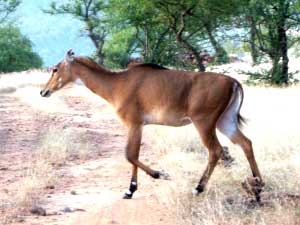 Ranthambore National Park
reached Sawai Madhopur in Rajasthan in the month of October. This  land of legends, tigers and a favored destination of wildlife buffs is truly worth a visit. This was my second visit to the Ranthambore National Park. Apart from the wildlife, the Park has amazing landscape which I found quite adventurous. There is a deep contrast in the landscapes of its different zones. One of its zones has very steep path, almost like the trails in hill stations. The jeep safari through this zone is a great adventure in itself. And hats off to the driver who skillfully drives through this arduous path.
We began our journey with a visit to the historic Ranthambore Fort, which is located at a distance of around 4 km from the entrance of the Park. While driving to the fort we saw vultures. This sighting was a reward in itself as vultures are vanishing from the earth at a fast pace. We moved further and reached the gate of the fort where many langurs were flaunting their long tails at a huge banyan tree-their domain.
Apart from the rustic and beautiful structures of the fort, we saw temples, birds and small lakes. At one of the rustic structures, called as 32-pillared building, we saw the enchanting parrots. I didn't even remember when I last saw a parrot. For me the sighting of a parrot was as much a cause for celebration as the sighting of a tiger. The structure was breezy and cool. We rested there for sometime and clicked some photographs.
After exploring the fort we came back to the hotel for lunch. After stuffing out hungry stomachs with delicious lunch we thought of taking a nap before embarking on an evening safari.
During our evening jeep safari we sighted sambar, chinkara, spotted deer, nilgai, langur, cheetal, painted storks, painted spurfowl, hyena, the great Indian horned owl and white-necked stork. When our safari was coming to a close, my friends aired their grievances as we cound not sight a tiger. I laughed and said "better luck next time".