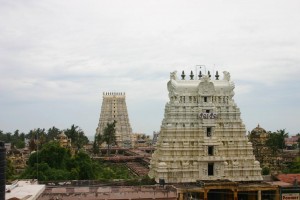 Rameshwaram
'Boss will remain a boss'. Seems it's their 'job profile' to not grant leave to their respective subordinates. I sometimes wonder do they get special incentive for not approving leave! Well after a great deal of efforts I somehow managed to take four days leave for the Rameshwaram Tour which I had planned with my friend Pallavi. It was such a great feat for me. But the sinister forces were lying in wait to attack my happiness. At the crack of the dawn, on the same day when we had to leave for Rameshwaram, Pallavi called to say that her boss canceled her leave as she has to accompany him on an urgent business trip. This dampened my spirits but I still decided to go alone as my heart didn't allow me to maul my dream of visiting Rameshwaram, a place I always wanted to visit.
I had heard and read a lot about the wonderful Rameshwaram town (an island) in Tamil Nadu and now I was eagerly waiting to experience its charm for real. An inexpressible feeling of joy enveloped my heart as I stepped into the beautiful land of Rameshwaram. This city is steeped in natural beauty and has great religious significance. It is affectionately dubbed as the 'Varanasi' of the South. It is a religious city which draws devotees of Lord Shiva and Vishnu. The Hindus believe that a visit to Varanasi( the most sacred pilgrimage of Hindus) is incomplete without a visit to Rameshwaram. According to the legend it is at this place where Lord Rama performed thanks giving rituals to Lord Shiva after his triumph over the demon king Ravana in the battle at Sri Lanka.
I was booked in the Hotel Royal Park which is a budget luxury hotel offering good services and facilities. One of my friends had suggested this hotel to me. The famous Lord Ramanathaswamy Temple of Rameshwaram is located only 2 km from this hotel.
Post breakfast I along with my guide Ramesh embarked on my journey to explore the mesmerizing Rameshwaram. I first visited Ramanatha Swamy Temple which dominates the land of Rameshwaram. It is the major draw here. Reflecting the brilliance of Dravidian architecture, the temple dates back to the 12th century A.D. It boasts of the largest temple corridor in India. Its other attractions are its 22 big wells, each having different taste of water, elaborately sculpted pillars and carvings on the walls.
Next we drove to Dhanushkodi, a scenic site located 8 km from Rameshwaram. The legend goes that at the request of Vibeeshana, brother of Ravana and ally of Rama, Rama broke the Sethu with one end of his bow and hence the name Dhanushkodi, Dhanush meaning Bow and Kodi meaning end.
We also visited Kothandaraswamy Temple which is located at 12 km from the city center. It is a historic place where Vibhishana( Ravana's brother) surrendered to lord Rama.
My next halt was Agnitheertham. It is a place which holds immense mythological significance. My guide told me that it is at Agnitheertham where Lord Rama worshipped Lord Shiva. The water at this place is considered holy and hence devotees from far and wide come here to take a dip. With a desire to accumulate some good fortune I also took a bath in the water.
Next was my favorite attraction-the beach. The beach was peaceful and beautiful. The serene beach and shallow water make this place a perfect destination for swimming and sunbathing. The view of the dolphins in the sea was mesmerizing to the hilt. Last but not the least was the enchanting sunset view which was breathtaking. With the wonderful memories of Rameshwaram I went back to the hotel.