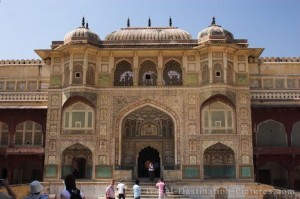 Jaipur City Tour
Rajasthan is one such place that has always been my center of attraction. The land of raja-maharajas takes me to the memories of royal past. Assailed by my desire to explore this wonderful destination, we, a group of four friends, embarked on Rajasthan Heritage Tour.
The peaceful destination of India with rippling sand dunes, vibrant culture, majestic forts, heritage palace and varied wild life make Rajasthan altogether a place to visit. As we were moving ahead to visit some magnificent palaces of Rajasthan, we felt ourselves going back in time of Kings.
The wonderful architecture, the beautiful interior of the massive forts reflect the great architectural heritage. Different types of carving, paintings and inscriptions are the real wealth of this princely state. Our Rajasthan Heritage Tour took us to explore the ruins of the desert land of Rajasthan. All the regions have several magnificent forts and palaces.
During my tour, following forts and palaces became a part of my exploration in Rajasthan:
Amber Fort (Jaipur):
This sprawling fort in Jaipur is a classic example of Rajput architecture style. The stern exterior, mighty gates, huge ornate halls, well-built pavilions and beautiful gardens, this is what Amber Fort is all about. The most exciting thing that we enjoyed there was, Elephant Ride.
Hawa Mahal (Jaipur):
This pyramid-shaped monument is popularly known as 'Palace of Winds.' There are 953 small windows in which the gentle wind circulates and that is the reason behind it is given the name. Climbing to the top of Hawa Mahal offers an excellent view of the city.
City Palace (Udaipur):
Built by Maharaja Udai Singh, City Palace is situated in Udaipur. There are varied massive gates to lead the palace through elephant gate or hathi pol. From the balcony of this fort, Jag Niwas can be seen. Owing to its cultural and natural beauty, this palace is famous across the country.
Umaid Bhawan Palace (Jodhpur):
Located on Chittar hill, this palace has been constructed with sandstone. Some part of Umaid Bhawan has also changed into museum and hotels. The influence of western and eastern architecture can be seen in the architecture of this palace.
Chittorgarh Fort (Chittorgarh):
Located on a high hill near the Gambheri river, this massive fort covers an area of 700 acres. Its well-built palaces, huge towers and majestic cenotaphs add to the beauty of this palace. Having a colossal structure, the fort boasts a long story of courage, chivalry, romance and sacrifice.
Mehrangarh Fort (Jodhpur):
It is one of the largest forts of India, boasting of its imposing structure with massive walls which still stand undeterred. Located at a staggering height of 400 feet on a high hill, this amazing fort is really an architectural wonder.
The unmatched beauty, elegance and royal structures of these monuments of Rajasthan make it a place worth to visit.
Rajasthan is a land suitable for all types of tour prorgarmme. If you wish to go for adventure tour and wildlife, it has options like Ranthambhore National Park and Bharatpur Bird Sanctuary.
Enriched with historical palaces, Rajasthan has too many options to go for a historic Rajasthan tour.
Last but not the least, Romantic Rajasthan Tour takes you to the most exotic destinations for a truly romantic experience. You can visit Chokhi Dhani which is an ethnic village resort offers you to stay in a traditional Rajasthani style amidst all the modern amenities. Staying in heritage hotels and spending the whole day with your beloved amidst luxury and comfort will be a unique experience.
At last, we decided to go for a camel safari. It's the best way to explore Rajasthan. After spending quality time in the wonderful Rajasthan, we came back to Delhi with delightful memories of the tour.