Rajasthan Cities- They have the history, tradition, and grandeur!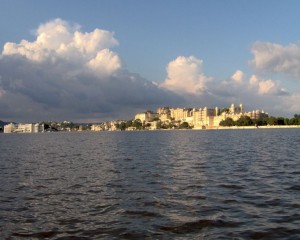 Udaipur Lakes
The moment I stepped into the incredible land of Rajasthan the 'wow' factor took over. And it did not fade away till the very end of my Rajasthan tour. As I had expected from Rajasthan, its attractions were royal, beautiful and majestic. Hospitality seems to come naturally to this land of raja-maharajas. Enveloped by the charm of the fascinating beauty of this destination I started my journey with its most romantic city, Udiapur.
My travel-obsessed heart could feel the air of classy warmth and charm in Udaipur. I was booked in The Oberoi Udaivilas, one of the finest heritage hotels in India. With its majestic aura, royal treatment, stunning interiors and warm hospitality, it had left me spell bound. After gorging on delicious breakfast I along with my guide Bhupender Singh headed towards the enchanting City Palace. Its interiors are embellished with royal paintings, mirror work and carvings. The palace complex encompasses several magnificent buildings, terraces, courtyards, corridors, pavilions, hanging gardens and museum. The Manak mahal, Mor Chowk and crystal gallery are the structures I liked the most. The palace also offers a picturesque view of the Pichola lake and Lake palace( one of the most luxurious and stunning heritage hotels of India).
Udaipur is popularly known as the 'City of lakes' which is famous throughout the world for its charm. Its foundation was laid by Maharana Udai Singh in the year 1568.
While coming out of the City Palace my gaze froze at a tree awash with bats. It was truly a sight to behold. From there I moved to Lake Pichola and enjoyed a boat ride. It was such a refreshing experience. Built in 1743, the Lake Palace is set amidst the lake. Post lunch I visited Fateh Prakash Lake which is a huge and beautiful water body. For a moment I felt as if I am in some southern region of India, somewhere near Kerala. Rajasthan truly has different colors and flavors to offer to tourists.
As I also had to explore some other cities of Rajasthan I decided to make a move from Udaipur towards Jodhpur. But how could I have left without enjoying shopping in this colorful city. I halted at the market and I joyfully indulged in shopping, ended up buying eight tie and dye suits and two saris. Really, it is impossible to resist shopping in Udaipur.
Sitting in the car with a mind overflowing with wonderful Udaipur memories I headed towards Jodhpur. The other cities of Rajasthan in my itinerary were Jaisalmer and Jaipur. These princely cities are the brightest jewels of this Rajput land.