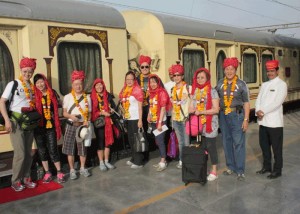 Palace on Wheels
Stepping into the world of luxury, comfort and royalty I was soaked in the feeling of traveling back in time to the era of raja-maharajas. With a desire to taste the royalty of the raja-maharaja era and to explore the enchanting destinations of Rajasthan in a royal style I and my friend Pallavi boarded the Palace on Wheels, one of the most luxurious trains in the world. We boarded the train at 4 pm in the evening from Delhi Cantt Railway Station and set out on our dream journey. The moment we boarded the train we could see and experience luxury and royalty in plenty which was making us feel like 'queens'.
It would be no exaggeration to say that Palace on Wheels is an epitome of luxury and royalty. This train is a fascinating attraction of Rajasthan Tourism. Once used by the raja-maharajas of the bygone era, this train is now open for tourists. Palace on Wheels tour is the best way to explore the rich cultural heritage and other attractions of Rajasthan. It offers 7 nights/8 days tour to several enchanting destinations of Rajasthan and North India. You will travel to mesmerizing destinations starting from Delhi to Jaipur, Jaisalmer, Jodhpur, Chittorgarh, Ranthambore National Park, Udaipur, Keoladeo National Park and Agra. Each of the above destinations has its own unique attractions to offer.
The luxury train Palace on Wheels boasts of 14 air conditioned deluxe saloons named after the princely states of Rajasthan. There are four cabins in each saloon which are well appointed with facilities such as bath and shower, satellite phones, intercom, channel music, wall to wall carpeting etc. Each cabin is majestically decorated. And to take care of your every need a khidmatgar (attendant) is always at your service.
Dine at the two wonderful restaurants named as 'The Maharaja' and 'The Maharani' on the train. Feed yourself with a variety of delicious Rajasthani, Indian, Continental and Chinese dishes. And if you want to refresh yourself with a drink in the evening then scan the bar on board which serves Indian and International alcohol brands. Shopping facility is also available on board. Cultural activities like puppet shows and traditional dance and music programs are the other highlights of the Palace on Wheels tour.
Luxury train tours are among the famous attractions of incredible India. India offers several luxury trains covering different regions of India. Some of the most famous luxury trains of India are Palace on Wheels, Deccan Odyssey, Royal Rajasthan on Wheels, The Golden Chariot, Maharaja Express and Indian Maharaja Express.
I and Pallavi thoroughly enjoyed our journey on Palace on Wheels and also enjoyed the attractions of Rajasthan and Agra. From wildlife to palaces, forts, havelis, monuments and culture, we enjoyed so much on this tour. From the wilderness of the dense forests to royalty and charm of the stunning palaces, history history of the forts, beauty of the architectural monuments, colorfulness of the culture and much more, this tour has a lot to offer.