Nainital- The Crowd Puller!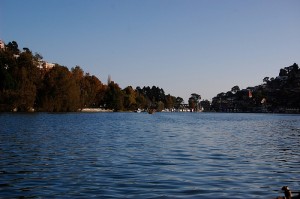 Nainital Lake
Traveling is the most beautiful and rejuvenating activity for me in this world. Nothing compares the pleasure of exploring new destinations. The spark of traveling in my heart never fades away and this time it took me to Nainital. Again I was ready to learn and grow, to stretch my limits and appreciate overwhelming nature fashioned by the almighty. Some of my friends came along as their world also orbits around traveling.
In the early hours of the morning when I stepped out of my hotel room, I was elated to see the calm and beautiful Naini lake. As I walked towards the lake my eyes caught sight of the rising sun whose orange rays cloaked the hill tops, making them look like a heap of gold. Enjoying the boat ride on the lake I saw a White-throated Kingfisher perched on a boat feasting on a fish. It was a sight to behold.
The lake is the most attractive feature of Nainital. It is a fresh water natural lake, which is highly picturesque. Here one can enjoy boating in three different types of boats- yacht, rowing boats and paddle boats. The road running parallel to the lake is called Mall road, which is dotted with wonderful trees, hotels and shops.
Next we went to the Naina Devi temple located on the northern shore of the lake. It is a famous temple dedicated to Maa Naina Devi ( an incarnation of goddess Parvati). The pujari of the temple told us an interesting legend associated with the temple and the lake.
Our next halt was the enchanting Naini Peak, also known as the China peak. We reached there on ponies, enjoying the journey to the hilt. The romantic, peaceful and blissful aura of the peak captured my heart and I tried my best to capture such a pristine beauty in my camera. The peak offers breathtaking views of Nainital. From there we headed towards the city for lunch. We dined at one of the restaurants named Khana Khazana and the food it served was really tasty. As we moved out of the restaurant after having a hearty lunch it started to rain.
My friend Monika commented, "it is also a part of the adventure". We immediately bought umbrellas from the small shops lining the road, and when I saw Tahir's umbrella I burst out laughing. He had bought a huge 'family-size' multi-colored umbrella. Anyway it was sheer fun to stroll through the mall road in rain with the funny umbrellas.