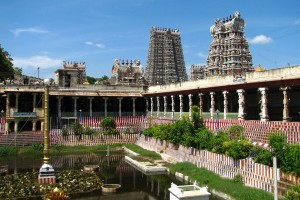 Meenakshi Temple
The Meenakshi Sundareswarar Temple or Meenakshi Amman Temple is a historical Hindu temple located in the holy city of Madurai, Tamil Nadu, India. It is dedicated to Lord Shiva (in the form of Sundareswarar or Beautiful Lord) and his consort, Goddess Parvati (in the form of Meenakshi or Fish-eyed Goddess). The glorious architectural beauty of this Dravidian structure summons scores of tourists to this place from several parts of the globe. But it is said that only the fortunate one's get an opportunity to visit this Hindu religious destination.
I have heard, read and seen about this temple since my childhood which develops a sense of inclination in me towards this magnificent architecture. Finally this curiosity ended last week when I visited this colossal building during my Chennai Tour. The impressive architectural beauty, striking atmosphere, intricate carving and religious atmosphere absorbed me when I entered the temple premises.
The temple is enclosed within a high-wall and at the center there are two sanctums one is for Meenakshi and another is for Sundareshwara. The whole temple is encircled with number of smaller shrines, grand pillared halls and twelve impressive gopurams. I was impressed by towers in the temple which are adorned with stucco figures of deities, mythical animals and monsters painted in vivid colors. The chiseled out beauty of these towers showcases the affluence of craftsmanship achieved by artists during the Dravidian era.
Every nook and corner of this magnificent edifice have its own identity and own significance yet the most striking feature is 14 magnificent Gopurams or towers including two golden Gopurams. These towers are elaborately sculptured and painted brightly with several mythological figures which touch the heart of every visitor.
Ashta Shakthi Mandapam located on the eastern entrance of the temple is known for the statute of eight goddesses which are famous for their crafting and elaborate design. Adjoining to this is the Meenakshi Nayak Mandapam, known for its sculptured pillars that portray the story of Lord Shiva's Thiruvilayadals (miracles) and Meenakshi's birth. This hall also has a lamp-holder with 1,008 lamps which is lit up during festive occasions.
Orthamarai Kulam (Golden Lotus Tank) is a scared lake situated inside the temple premises. The Oonjal (swing) Mandapam and Killikoontu (parrot cage) Mandapam is located on the western side of the lake. Every Friday the idols of Meenakshi and Sundareswarar are placed on the swing in the Oonjal Mandapam and mantras were chanted. It is because of this Friday is considered as auspicious day to visit this temple. The shrine of Lord Sundareswarar's is situated to the north of Kilikoontu Mandapam. Here Sundareswarar is worshipped in the form of a linga with his 64 bhootaganas, 32 lions and 8 elephant attendants.
After exploring some of the popular attractions of this temple I sat on the staircase of Potramarai Kulam – The Golden Lotus Pond. I was seating quietly and the continuous chants, prayers and devotional carnatic music accompanied by Mridanga and Nadaswara creates a mystic atmosphere in which I was completely lost. I felt that I was away from the world and my mind was thoughtless. The peace that I felt cannot be expressed in words. Based on my experience I assured that people who want to feel the power of religion and spirituality must visit the Meenakshi Sundareswarar Temple or Meenakshi Amman Temple.