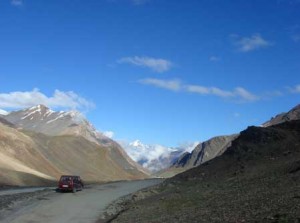 Ladakh
Continuing my tradition of exploring the incredible destinations of India, this time I packed my bags and headed to Ladakh in the month of December. Visiting this wondrous destination in the winter is an absolute enchantment. It is popularly known as "Little Tibet" because of its similarity to Tibet in terms of geography and culture. As I reached this beautiful land I felt as if I had landed on some new planet inhabited by only a few people. Here the pure white snow not only cloak the mountains but the roads also. The sights of the mountains, plains and romantic lakes punctuated by beautiful Gompas (Buddhist monasteries) are simply overwhelming.
I along with Mukesh, my guide, started exploring Leh early in the morning . Hemmed in by snow-covered peaks of the fascinating Himalayan range, Leh has bewitching attractions to capture the hearts of tourists. Mukesh suggested to explore Leh on bicycle (for adventure) as it is a small city. I like his idea and we made a move towards the arresting 17th century royal palace with 9 stories. It still retains its old-world charm, despite of being almost in a state of ruin.
The next attractions we visited were the Namgyal Tsemo and the Soma monasteries. After my visits to the beautiful monasteries I decided to dine out at one of the restaurants where we relished delectable momos and thukpa (noodle-based soup). Then we hired a taxi and reached the valley of Zanskar, which has much higher altitude than most areas in Ladakh.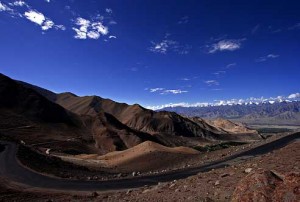 Shyok Valley
Its rugged landscape was mind-blowing. We also visited its monasteries, which had their own charm.
The next attraction on my list was the Shyok Valley, which has a great attraction, the Shyok River. As I had come to Ladakh in winter, the river was frozen and the sight was breathtaking. I spent hours enjoying this creativity of nature. As the day was drawing to a close I retraced my steps to the hotel I was booked in.