Day I: Kerala Tour: Give in to the sweet seduction of Kovalam Beaches!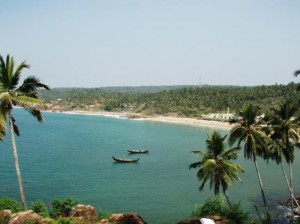 Kovalam Beach
'Drudgery of daily life'. Sounds familiar na! This is something which everybody experiences but magic lies in creating some moments of happiness, punctuating the monotony. For me happiness is synonymous with traveling. And whenever I think of traveling two names bounce around in my mind; Monika and Anand as they are also absorbed in the wonder of traveling. We have been friends since college days and over the time we have also become travel comrades. Out of the three of us, Anand is the most fortunate soul when it comes to taking leave from office. History repeats itself; this time also he got leave quite easily. We asked him what spell he casts on his boss! He smiled and said, "simple, I work hard and you girls hardly work, this is the reason". Again, as usual, he without missing the opportunity started pulling us and also gave us some funny tips on how to handle a difficult boss.
Monika and I had a hard time getting a seven day's leave. Hold on; the worst part of the story is that we work in the same organization, which makes it all the more difficult. Jittery and hyper, we were waiting for the acceptance of our leave. Gosh! Sometimes these bosses act like a nagging mother-in-law. Finally our big boss approved our leave, but only for 4 days.
Taking glee in our victory we set out on our much-awaited journey to Kovalam. We flew down to Thiruvananthapuram airport in Kerala and after covering a distance of 16 km by car reached the mesmerizing Kovalam, the beach town. Affectionately dubbed as the 'Land of coconut groves', Kovalam is among the most fascinating attractions of Kerala, God's Own Country. After refreshing ourselves we headed towards the Lighthouse beach of Kovalam.
I have always been in love with Kerala and have traveled to this place several times. It was as enchanting as ever. Every visit to this destination becomes a special memory for me. Anand hails from Kerala but because of his professional carrier he and his parents stay in Delhi. He was so happy to be here and I could clearly see it on his face glowing with joy. As we were talking how wonderful we were feeling to be here, Monika said, " what greater delight is there than to feel in rhythm with nature, to leave behind the nagging bosses and rat-race of urban life and feel like a free bird". With a grin, I said, "I completely agree with you sweetheart".
Once a traditional fishing village Kovalam is one of the most fascinating destinations of Kerala which is famous for its beaches. Its vegetation, natural beauty, salubrious climate, peaceful environment, mesmerizing blue water of Arabian sea, white sand and swaying palm trees leave tourists spell bound. There are three beaches in Kovalam: the Lighthouse beach, the Hawah beach and the Samudra beach. The lighthouse beach is the largest and the most popular one and is named so because of the presence of a lighthouse here. All the three beaches are separated by rocky headlands. We reached the top of the lighthouse and enjoyed the breathtaking view of the beach and the town. The experience was simply overwhelming.
Kovalam was one of the most prominent tourist spots in India during the hippy era. To add more adventure to our visit to the beach we indulged in parasailing and the pleasure was unlimited. Next was the swimming session. Being a non-swimmer I decided to stay back while Anand and Monika went for swimming.  I could see them enjoying like kids. Sitting on the shore I was enjoying the views of extensive stretch of sand, lashing waves and limitless sky. And the cool breeze was blowing a melody into my ears. I can't express in words what a wonderful feeling it was! A feeling which was feeding my soul with peace and joy. I also collected some sea shells to take back home as a memory of this place.
Next we went to the nearby restaurant to pamper our taste buds with some amazing south Indian dishes. After gorging on the dishes we again went to the beach to capture the beauty of sunset as the day was drawing to a close. And the sunset view was breathtaking, mind-blowing and enchanting. The rays of the sun had cloaked the sea in golden hue and the birds were freely soaring in the sky. The unfathomable waves had taken a different look altogether and the moon was slowly making its presence felt. And the 'wow' factor had completely taken over…
We came back walking to our hotel as it was located near the beach. Post dinner we again went to the beach for a walk. The view of the beach in moonlight was completely different. We sat there and chatted for an hour while enjoying the charm of the sea. This was the end of our beauty and adventure packed day. The next day we were slated to go for blissful Ayurvedic massage at Somatheeram ayurvedic resort which is the oldest Ayurvedic resort in the world.
I had already started dreaming with open eyes! And ended my day with a short poem dedicated to Kerala:
How heavenly Kerala is! a paradise on earth!
Epitome of natural beauty, this land transports you to the world of rapture
Relishing its glory, drunk on its beauty
Offering heartfelt thanks, I bow before almighty who festooned this land with natural wonders.o