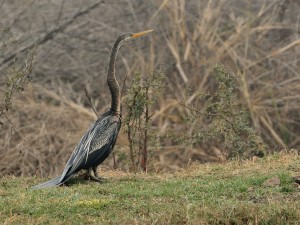 Bharatpur National Park
Beautiful, colorful and vibrant! Birds teach us a lot about life! My torrid affair with birds bring me to Keoladeo National Park time and again. It was indeed a time stopping experience to witness the drama of birds in one of the world's famous sanctuaries. The other day I was reading a nature based book "Srishti" in which I came across some information on birds by S. Baker. Dr Salim Ali, the father of ornithology in India. It read the bird is known to pair for life. 'The cranes are most affectionate birds, pairing for life'. Isn't it interesting!
Keoladeo National Park is a UNESCO World Heritage Site located in the incredible state of Rajasthan. Sprawling over an area of 232 sq km, the Park is also known as Bharatpur National Park. With its picturesque landscape, beautiful scenery, impressive wildlife, Keoladeo National Park is a great place to visit. It is a home to around 370 species of birds. The endangered Siberian cranes are also spotted here during winters.
It was a dream tour for me as I treated my senses to a variety of enchanting birds. I rented a bicycle to explore the Park. One of the interesting scenes I saw was a pair of cranes playing or fighting for twigs. Till the end I could not make out whether they were playing or fighting. Anyway it was interesting to watch. As I moved further I saw spider webs at a distance. I immediately stopped the bicycle and went close to it to observed it from close quarters. The web was hanging between two small plants with some dew drops shining brightly. At the corner of the web I spotted two spiders with yellow and white dots. I had no clue about its species but anyway they looked awesome.
As I was scouting for birds at a water body my gaze suddenly hit a python who, I guess, was sleeping or may be sunbathing. I immediately took a few steps back for safety reasons but at the same time it was a moment to behold. Without disturbing it I moved further in search of other wildlife. Then a few meters ahead I sighted Rosy Pelican, Spanish Sparrow, Red Crested Porhard and Flamingo. I wondered how wonderful these creatures of nature are!
As we moved on, I and my guide Sher Singh were greeted with the sights of cormorants, kingfishers, geese, herons, woodpeckers, parrots and egrets. I was seeing parrots after a long time. I remember when I was a kid parrots were quite common but today we rarely see them in our environment. Today sighting a parrot is no less exciting than the sighting of a tiger.
I was ecstatic at the sight of all the birds and other wildlife I saw in the Park. With cherished memories I came back to the Bharatpur Forest Lodge which is located within the Park and is run by the government. The next morning I woke up to the melodious chirping of birds. It was such a heart warming experience. This ended my Keoladeo National Park tour but my affair with wildlife continues.