Keoladeo National Park- Teeming With Colourful Birds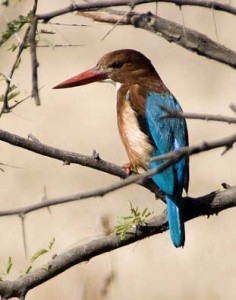 Kingfisher Bird
When an irresistible desire to reconnect with nature captured my heart, I decided to head into the wilderness. A different world with its different hues, smell and sound, Keoladeo National Park is a perfect place for people inclined towards wildlife, I thought to myself.
Keoladeo National Park is a jewel of Rajasthan, which has been recognized as a World Heritage Site. Located in Bharatpur, this Park is one of the most popular bird-breeding sites on this planet. Sprawling over 29 sq km, the Park consists of kadam forests, grasslands and shallow lakes. Attracting throngs of tourists from across the world, the Park boasts of around 400 species of birds and 50 types of butterflies. Besides this, the Park also houses other wildlife species including reptiles and mammals. The wonderful Siberian crane visits here every winter. The Park was established 250 years ago and got its name from a Keoladeo (Shiva) temple located within its boundaries.
There are different options available to explore the Park such as government approved cycle rickshaws, tongas and bicycle. I opted for cycle rickshaw. I and my guide Rahul stopped many a time to treat our eyes to a variety of wildlife- herons, cormorants, owls, kingfishers, storks, wild geese, Golden Jackal, Jungle Cat, Striped Hyaena, Sambar, Fishing Cat, Nilgai and wild Boar.
We also saw the 18th century Lohagarh Fort, which may not be a stunning structure but still worth a visit. In its museum we saw a rare collection of animal trophies and old paintings.
Congratulating myself on my choice of destination, I came back from Keoladeo National Park with a 'contented heart'.