Kaziranga National Park is a World Heritage Site, which I personally think must be visited at least once. But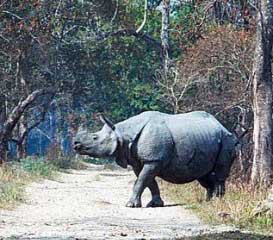 Rhinoceros
fortunately this was my second visit to the Park and this time my expectations were also higher than before. The memories of my past visit to the Park are still fresh, just like the Park. The Park is no less than a paradise for wildlife lovers as one can witness a variety of wildlife such as leopard, Asiatic Water Buffalo, Royal Bengal Tiger, Great Indian One-horned Rhinoceros, Wild Elephant, Python and a range of resident and migratory birds.
I was booked in Aranya Lodge, managed by Assam Tourism located in close vicinity to the Park. The views of gorgeous green patches and brown vegetation were awesome. I opted for Jeep safari. From my past experience I knew that the Park is divided into four ranges – Burapahar, Baguri, Central and Eastern and the Central range is the most promising region for wildlife sighting. With less time in my hands, I decided to explore the central range and the Baguri range (known for birds).
Sprawling over an area of 429 sq km, the Park's landscape mainly consists of
Elephant
tall and short grasses, dense tropical moist broadleaf-forest, swamp and rivers. As we moved into the Park we spotted a herd of hog deer. As we moved further we saw a herd of elephants with young calves. It was a kodak moment. Next, we were greeted with the sights of Bar-headed Geese feasting on something. The next sight was simply overwhelming. A python was relishing his catch. Our next interesting sight was the sight of sunbathing tortoises.
We ventured deep into the forest in the Baguri Range where the sights of several beautiful birds were waiting for us. I was elated to see Pond herons, Open-bill Storks, Cormorants, Fish Eagles, Black-necked stork, Pied Kingfishers and many other bird species. While exploring this range we saw Great Indian Hornbill, Water Buffalo, Great Indian One-horned Rhinoceros. While on our way back to the lodge, Ramesh told me stories about Rhinos and Wild Elephants running after tourists. So it is adviced not to get down from safari vehicles for shots from a close quarter.
Although my visit to the Park had ended but the memories were flashing in my mind at a lightning speed.