Traveling is one of those things in my life for which I am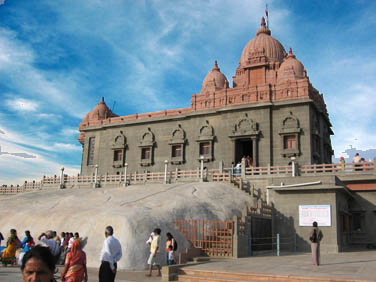 Vivekanand Rock
passionate to the hilt.I pray everyday to travel and explore this wonderful planet as much as possible, a prayer which might sound strange to you. My friends often say that I am drunk on traveling to the point of insanity. Anyway, I am more than happy about my passion and never leave an opportunity to travel, in fact, I am slowly and gradually learning the art of 'creating' such opportunities. So there I was with my camera at Kankakumari, the extravagantly beautiful destination.
After reaching Kanyakumari I soon walked down to reward my senses with the much awaited sights of its enchanting Kanyakumari beach. Kanyakumari is an arresting destination located in the wonderful state of Tamil Nadu at the southern most tip of the peninsular India. The fascinating feature of this place is that it is the point where the three oceans- Bay of Bengal, Arabian Sea and Indian Ocean meet.
My guide Shankar told me that a dip in the water of the ocean is considered holy. But the irony is that the sea is quite rough and one must be careful while bathing in it. Well, I dipped my feet in the water and a feeling of sheer joy enveloped every atom of my being. The water was so clean and the view of the sea was overwhelming. My heart was wallowing in joy. One more thing which attracted me was the multi-colored sand. I took a stroll at the beach gazing at its beauty. I walked up to the lighthouse at the beach, which offers breathtaking views of the surroundings.
I also visited the famous Vivekananda rock jutting out of the sea. Housing the statue of Vivekananda, it is the place where he meditated. I spent some quality time there. The day was drawing to a close and now , holding my breath, I was eagerly waiting to see the sunset, which is one of the major attractions of Kanyakumari. The scene was dramatic, very dramatic. I wondered how mystic the drama of mother nature is! This was the most beautiful sunset I ever saw in my life.