Jaipur- The City Of Surprises and Delights
Rajasthan Rocks! Well, this is the first phrase that races through my travel-obsessed-mind when someone talks about this royal destination of India. I get attracted to this destination just like iron filings towards a magnet. For experiencing the age old royal charm of culture and hospitality I and my friends hit the most princely city Jaipur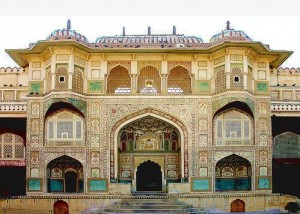 Amber Fort, Japiur
. As most of the buildings here are painted in pink(the royal color) Jaipur is popularly known as the 'Pink City'. It occupies a prized place on the itinerary of the most famous tour of India, the Golden Triangle Tour.
We were booked in the heritage hotel, Alsisar Haveli. More than five centuries old, this hotel really gives a royal touch to your stay. It is located in the heart of Jaipur . As we entered the hotel I felt as if we have been transported to the era of raja-maharajas. Its interiors reflected the grandeur of the old days very beautifully. The fort overlooks the Maotha Lake.
The first attraction we explored was the majestic Amber Fort. This fort palace is a classic architectural masterpiece. Its foundation was laid by Man Singh I in the year 1592 and it was completed by his descendant Jai Singh I. It is a perfect amalgamation of Mughal and Rajpur styles of architecture. Its an interesting 20 minutes climb uphill. Tourists can go for an Elephant ride or a Jeep ride to reach the fort. One can also go on foot.
We opted for an elephant ride as what can be more interesting and royal than visiting the fort on an elephant's back like a king. The fort offers a bird's eye view of the city, which is a sight to behold. The huge doors of the fort were decorated with locks of interesting designs.
Some of the attractions of the fort, which I personally liked very much were:
Diwan-e-aam or Hall of Public audience:
This structure was the place where the king would listen to the problems and issues of the general public. It is made of marble and red sandstone. The forty pillars inside this apartment are exquisitely carved.
Shila Mata Temple:
Built in honor of Goddess Kali, the goddess of victory, the temple has a beautiful black marble idol of the goddess. The silver gates of the temple are adorned with the nine forms of Goddess Durga.
Ganesh Pol :
The Ganesh Pol is amazingly painted with vegetable colors using rajasthani motifs. And the striking feature of the gate is the beautifully carved statue of Lord Ganesha.
Diwan-e-khas:
It is an arresting apartment with stunning mirror work and exquisite carvings. The fabulous colored glass murals of depicting Lord Krishna and Radha is truly uplifting.
Zenana or Women's apartment:
It is the private chamber made to facilitate the royal ladies to watch the proceedings of the royal court without themselves been seen. It is decorated with mesmerizing paintings of Krishna Leela scenes.