Day 1: Royal and Mystical Tryst with Jaipur, Rajasthan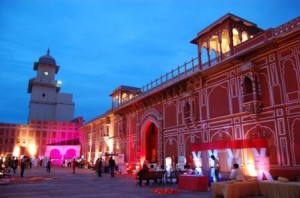 Jaipur City Palace
For me traveling is tantamount to happiness. When I travel  I feel in rhythm with the universe. 'Discover India' is one of my favorite programs on Discovery channel which never fails to capture my travel-obsessed heart. This time after watching a program on Rajasthan attractions the fancy to see the royal and opulent palaces of the raja-maharajas struck me. I, since my childhood days, cherished a grandiloquent piece of whimsy to live like a queen in a palace and to wander like a nomad on the sand dunes.
Assailed by my ardent desire I decided to visit Rajasthan. Monika and Anand, my friends who I affectionately call my travel comrades joined me on this tour. Well all three of us belong to the same breed of human beings, who get transported to the world of rapture upon hearing the word 'travel'.
Rajasthan, the very word conjures up images of stunning palaces, majestic forts, people dressed in colorful clothes with a bright smile on their faces and last but not the least the unfathomable sand dunes. It is truly a land of contrasts. From lush green gardens to desert, Rajasthan has it all. Our first halt in Rajasthan was Jaipur , the Pink city. We were booked in one of the best heritage hotels of the country, the Samode Palace to taste royalty in plenty. Royal treatment begins at the entrance gate of the palace and it lasts till you slip into deep dreamless slumber and then again you wake up in the lap of luxury. This palace is a celebration of the rich cultural heritage left behind by the raja-maharajas of the bygone era. We reached here in the evening.
Anand had come to Rajasthan for the first time and was enjoying it to the hilt. He said, "I am completely bowled over by the extravagantly royal and traditional ambiance of the Samode palace". Seeing his delight I said, "Dear, it is only a sort of amuse-bouche before the Rajasthan's classy attractions are served up – City Palace, Umaid Bhawan Palace, Amber Fort and Lake Palace.
Now it was time for some rest and refreshment by the pool. The poolside pavilions done to perfection and the gorgeous green garden overflowing with scented flowers and a variety of trees were a treat for the senses. We were here for candlelight dinner. Sounds overwhelming! Enjoying the beauty, luxury and royalty of the ambiance I smilingly said, ' I am loving being in the lap of luxury'. And Anand, who never gives a miss to an opportunity to pull my leg, immediately replied, well, "Living in the lap of luxury isn't bad, except that you never know when luxury is going to stand up". Hearing his witty remark all three of us burst out laughing. No wonder we were enjoying ourselves and every moment of our tour was truly worthwhile.
To pamper our taste buds we ordered traditional Rajasthani dishes and some exciting sweet dishes. I, a fitness freak, for the first time left behind the undesirable thoughts of counting calories and was all set to give in to the temptation as the delicious regional cuisine was irresistible. After eating to our heart's content we headed towards our respective rooms, rather royal apartments, and slipped into the bed. The next day we explored the fascinating and royal structures of Jaipur:
City Palace
It is one of the most royal attractions of the city. A perfect combination of Rajputana and Mughal architectural styles, the palace has stunning apartments such as Chandra Mahal, Mubarak Mahal, Diwan-e-Aam and Diwan-e-Khas.
Hawa Mahal
Reflecting the glory of Rajputana architecture, Hawa Mahal is an architectural marvel. The walls of this wondrous structure are pierced with more that 900 windows. These were especially designed to allow the royal ladies to see the street processions without themselves being seen.
Amber Fort
Majestic, grand and stunning, such is the Amber Fort of Jaipur. Fashioned out of marble and red sandstone, it is charming amalgamation of Rajput and Mughal style of architecture. It was built in 1592 by Raja Man Singh I. Its mesmerizing exterior and stunning interiors, never fail to impress the visitors. The huge courtyards, beautiful carvings, stunning mirror work, mosaic work, secret pathways and wonderful apartments of the fort speak volumes about its glorious past.
Flaunting the quintessential Rajasthani features, Jaisalmer is a mystic city. It was the second destination on our itinerary. With great memories of royal experiences, we bid goodbye to Jaipur and headed towards Jaisalmer.