India Forts and Palaces Tour-Part I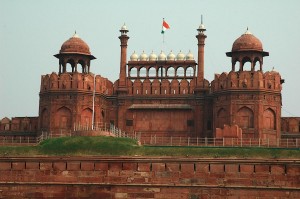 Red Fort, Delhi
One of my friends from New York had come to India for her cousin sister's marriage. I was so delighted to see her after almost 20 years. She is an Indian but went to New York when she was only 10. She has always been fascinated by the cultural heritage of India and wanted to explore its attractions, especially its forts and palaces. The day after the wedding ceremony I and my friend set out on the Indian Forts and Palaces tour. Visiting all the forts and palaces of India was not feasible in such a short span of time so we visited the famous forts and palaces of North India and South India.
The forts and palaces of India which we covered in North India are:
Red Fort in Delhi
It is a major attraction of Delhi steeped in glorious history. Built in red sandstone by great Mughal Emperor Shah Jahan in the 17th century, the fort is a marvelous architectural piece. The fort boasts of huge audience halls, stunning marble palace once studded with precious stones, a bustling bazaar where the royal ladies used to shop, a mosque and refreshing gardens with fountains and flowers.
Red Fort in Agra
A wonderful attraction of Agra, this fort houses amazing structures such as Jahangir Palace, Khas Mahal, Diwan-e-aam, Diwan-e-Khas and two beautiful mosques. This magnificent fort was built by the Mughal Emperor Akbar as a stronghold of the Mughal Empire. This majestic red sandstone structure has 2.5 km long enclosure walls. Located at a close distance from this fort is the world famous Taj Mahal. We also visited Taj Mahal which is one of the Seven Wonders of the World. This stupendous white marble structure is a mausoleum built by the Emperor Shah Jahan in memory of his beloved wife Mumtaz Mahal in the 17th century. Representing the perfect combination of different architectural styles, it mesmerizes the onlookers with its architectural beauty.
City Palace in Jaipur
This splendid palace, the landmark of Jaipur, is located in the capital city of Rajasthan. Rajasthan is the most colorful and culturally rich destination of India. One must visit Rajasthan to get the real taste of India. Aptly called the land of raja-maharajas, this destination boasts of the best palaces and forts in the country. The City Palace is a fine blend of Rajasthani and Mughal architecture built by Maharaja Jai Singh II. Located on a hill it is famous for its architecture, lavish use of marble and mirror work, frescoes, wall paintings, silver doors and crystal gallery.
Hawa Mahal, Jaipur
It is the famous landmark of Jaipur known for its unique architectural design. Built in 1799 in red sand stone it is pierced with more than 900 small windows. Representing a honeycomb structure it was especially built to allow the royal ladies to see the street processions through the windows without themselves being seen.
Lake Palace, Udaipur
Udaipur is an enchanting city of Rajasthan and Lake Palace is the most enchanting attraction of Udaipur. Located amidst the Lake Pichola, this palace is built in white marble boasting of several royal apartments inside it. It is one of the finest heritage hotels of India.
Umaid Bhawan Palace, Jodhpur
Once the largest royal residence in the world, Umaid Bhawan Palace is now a famous heritage hotel. Its stunning architectural beauty will surely sweep you off your feet. Sprawling across acres of land, it is a magnificent structure. It has 98 rooms offering royal facilities and services. Once can see period furniture here. There is a museum here which displays a variety of articles belonging to the erstwhile royal families.