Gulmarg Tourism: A Heavenly Trip to a Heaven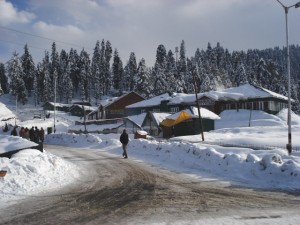 Gulmarg Tour
I had never thought that my adventure fever would take me to a journey where I could enjoy beauty as well as thrill at highest. The best part was when I saw the Indo-Pak border with naked eyes, and I had goose-bumps. Friends, it was Gulmarg – the meadow of flowers – the gem of Jammu & Kashmir. While going through the Gulmarg tourism guide, I came to know that the place was discovered by the British in 1927 as a superb hill resort. Moreover, it served as a favourite place of Emperor Jehangir who collected 21 different varieties of wild flowers from here. And it was real!!
Anyways, I was lying amidst magical meadows, snow capped mountains, and picturesque alpines that have altogether provided wonderful background for several Bollywood ventures. Although it was a one-day trip, I decided to keep my luggage in a hotel before leaving for some exciting adventure sports. On my way, I also paid a short visit to the shrine of Baba Reshi, a Muslim mystic saint.
My adventure journey in this region of Baramulla district of J&K started from Khilanmarg, where I enjoyed the best skiing of my lifetime. I hired the skis and sticks, snow boots, woollen socks, mufflers, windproof jackets, goggles, and caps. I was accompanied by a ski instructor who taught me the proper way to perform skiing. That short class offered by him was quite helpful in blind slopes.
After skiing for around a couple of hours, I searched for a restaurant where I enjoyed awesome Rogan Josh, a traditional non-vegetarian dish. Next I headed for the Alpather Lake, a picturesque alpine lake that remains frozen until late June. As an adventure seeker, I wished to take the one-day & 13 km trekking route from Gulmarg to the Alpather Lake, but later I dropped the idea and decided to go for a nature walk amidst the pine forests.
I also paid a visit to the gorgeous green golf course in Gulmarg, which boast of being the highest golf course in the world. This way, it was an ideal trip that offered me beauty as well as thrill. The place was mesmerizing. After all, it was a heavenly trip to a heaven!