Day 2- Jaisalmer Tour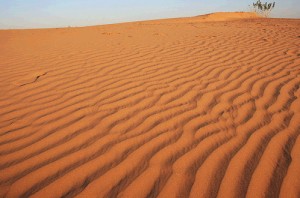 Jaisalmer Sand Dunes
On our way to Jaisalmer I was chatting with Anand and Monika was relaxing her tired muscles at the back seat of our Innova car. He shared that he always nurtured a desire to travel to Rajasthan desert and experience the beauty of unfathomable sand dunes and the lifestyle of Rajasthanis. Smilingly I said, "I am hopeful that this Jaisalmer trip will show you a slice of the life, which you always wanted to see and experience". Finally we reached Jaisalmer, the wondrous city of Rajasthan.
We were booked in Narayan Niwas Palace, which is one of the finest heritage hotel of Rajasthan. It is a majestic heritage property consisting of several sandstone structures with intricate carvings. It was a great experience to stay in this heritage hotel.
Jaisalmer is a fascinating city of Rajasthan where tourists can experience the rustic charm of sand dunes, the royalty of heritage hotels and the colorful life of villagers. The natural beauty of this place is simply mysterious and enchanting. This city is affectionately dubbed as the 'Golden City'. It was established in 1156 AD by Rawal Jaisal. At one point of time it served as an important trade route connecting India to Egypt.
Post breakfast we embarked on our journey to explore Jaisalmer attractions. Our first halt was Jaisalmer Fort which is popularly known as Sonar Quila(the Golden fort). It is located on Trikuta Hill and is the second oldest fort in Rajasthan. The Fort was shining like a jewel in the sun rays and was looking stunning. Our guide Rupesh told us that it was once inhabited by the Rajputs and Bhati Rajput ruler Rawal Jaisal was the founder of this fort. This wonderful royal structure reflects a perfect amalgamation of Rajput and Mughal styles of architecture. There are 99 bastions inside the fort but we could see only a few. This fort with three layers of walls was mainly built for defense purpose.
After a delicious lunch at one of the restaurants in the city we were ready for the most adventurous part of our journey. We headed towards the Sam Sand Dunes which is located at a distance of 45 km from Jaisalmer. As we reached the sand dunes I felt as if I have stepped into the times of Alladin. There we enjoyed camel safari and treated our senses with a breathtaking sunset view. Captivating natural beauty, peaceful ambiance and adventurous camel ride, all this really made our day!
In the end Anand said, " I am overwhelmed". This one sentence was enough to express that our Jaisalmer Tour had served more than we expected.