Day 2: Corbett National Park: The Fantasy of wild encounter!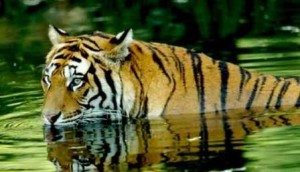 Tiger
Brushing aside our dismay, we went on the evening safari in the Corbett National Park with a hope to sight a tiger this time. While on our way to the Park I was wondering about the woeful plight of tigers in India. The tiger population in India is moving towards extinction faster than we can imagine. Soon sighting a tiger in the jungle and even in zoo will be a thing of the past. It is very sad to know that now only 1411 tigers are left in India.
The kids continuously kept asking about our chances of sighting a tiger this time. I tried to make them understand that we should have a keen eye for other wildlife species also. It's fun to watch them too. So let's not be obsessed with tiger and have love for the other species too.
As we were moving towards Dhikala we sighted a lot of wild elephants and monkeys. The kids loved the experience and my 4 year old niece asked me, "how come these monkeys are so fit? Do they exercise daily? I also want to become like them". Hearing her sweet wish we all burst out laughing. In the next one hour we saw some beautiful birds namely darter, long-tailed broadbill, crested serpent eagle, red jungle fowl, common peafowl and booted hawk eagle.
Dhikala is one of the best places in Corbett National Park where the chances of sighting a tiger and other wildlife species are bright. This region also provides accommodation facilities. Its picturesque surroundings and ambiance will surely leave you overwhelmed. A lot of elephants can be seen here. This region is not accessible during monsoon.
Our next sight was truly breathtaking. Our guide spotted something with his eagle eyes behind the bushes. We stopped our jeep and with pin-drop silence waited to see the creature. It moved and we could catch a glimpse of it. It was a tiger. In no time it moved into the dense forest. Well sighting the tiger was no less than a miracle for us. With limitless joy in our heart we continued our safari and sighted some deer, barking deer, chital, spotted deer and some more birds.