A Ride on Darjeeling Himalayan Railway alias 'Toy Train'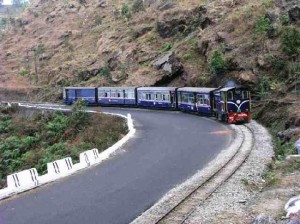 Darjeeling Toy Train
It is the happiest moment for anyone's life when one gets a chance to refurbish one's childhood memories. No wonder childhood days occupy a prized place in our lives and when we go down the memory lane our hearts get rejuvenated. Same thing happened with me when I boarded Darjeeling Himalayan Railway alias 'Toy Train' in Siliguri after completing my official work. During my childhood days I would always get fascinated by slow puffing of steam locomotives and its sound chuk-chuk still remains close to my heart. During those days any passing by steam train attracted me and I would rush to my balcony to see it. I used to stand in my balcony even after train moved away from my sight, lost in its left behind smoke trail.
Darjeeling Himalayan Railway alias Toy Train is a 2 ft (610 mm) narrow-gauge railway from Siliguri to Darjeeling in West Bengal which is managed by the Indian Railways. It is among the most enjoyable of India's toy trains which connects Jalpaiguri in the plains to the lovely hill station of Darjeeling. This toy train was constructed between 1879 and 1881 by Gillander Arbuthnot & Co. in order to accomplish the vision of Franklin Prestage, an agent of Eastern Bengal Railway Company. Due to its historical, cultural and economical importance this train was declared as a UNESCO World Heritage Site in 1999.
The train has only 2 coaches, First Class coach with capacity of 12-17 passengers and the second class coach with capacity of 30 seats. I purchased the ticket of first class and boarded the train to begin the journey of 86 kilometers. The train begins from an elevation of 100 m from Siliguri and reaches up to an altitude of 2,200 m in Darjeeling. Throughout the journey I was mesmerized by the ambiances of passing by destinations.
Through the wide glass window of the toy train one can see the majestic beauty of the Himalayas with its snow covered peaks glistering in the sun rays. During its journey train passes through Mahanandi valley, tea garden landscapes, monasteries and forests of pine and oak trees which are enough to stimulate your soul. I was completely engrossed in the natural panorama and it incited several thoughts inside me regarding the mystic nature. The journey was no less than a motion picture epitomizing natural beauty. Sometimes the natural scenic beauty was interrupted by the smiling people and running children when the train passed through some town or market.
The most interesting part of this joy ride was when train passed through the Batasia Loop. This is an interesting track-loop between Ghoom and Darjeeling where train corkscrews through a tunnel. During its turn I was enthralled by the spectacular view of Darjeeling town with the Kanchenjunga and other snowy mountains in the backdrop.
After 8 hours ride I finally reached Darjeeling at 4:30 pm. Though I was alone but I never felt it because my heart and soul were wallowing in joy as the train journey was offering breathtaking views of the fascinating places.
I took this ride to redecorate my childhood memories but this romantic journey added new section to my cherished memories.