Traverse Through the Zig-Zag Pathways with India Toy Trains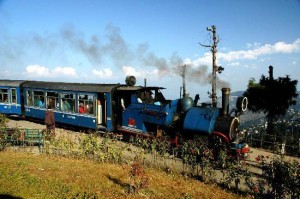 Darjeeling Toy Train
Few months back, I got an opportunity to enjoy an exciting ride by Darjeeling Toy Train, a popular toy train of India. Fed up with my stressful life, I planned the trip with two of my colleagues, Srishti and Sameer. The reason that insisted us to travel by a toy train was to see closely the natural beauty and tea gardens of Darjeeling. We all were so excited to have the first class tickets of this toy train.
Darjeeling is a Himalayan town situated in the state of West Bengal. The place is known for its salubrious climatic conditions and beautiful wonderment of nature. During my visit, I could realize that why it is called the queen of the hills. Enveloped with the fascinating mountains and green pine trees, the place looks like a picture-perfect location. Sitting on cushioned personal seats in a funky decorated train car, we slowly started our ride from Silliguri, which is around 77 km away at 10:30 a.m.
The train ride took us through three different types of terrain. As we started, we could see the small bushy trees and yellow grass all around. After that, we began to climb the hill, which was really a thrilling experience. The scenic beauty scattered along the rail line is a thing to enjoy forever. The luxurious vegetation is covered with beautiful landscapes of snowy heights. The best part about the train was that it moved very slowly and thus, we could treat our eyes with some amazing glimpses of the natural beauty. Not only this, but we could also explore the famous attractions like Observatory Hill, Tiger Hill and Mall.
Soon, we found ourselves into a jungle atmosphere. All we could see was enchanting waterfalls and big plants. If you do not pay attention while peeping out of the windows, they might slap you in the face. When the train switched back, I could reach out and plucked the flowers of different shapes, colours and sizes, growing outside the windows.
After Kurseong, this beautiful destination has tea gardens all the way. Here, you get time to pause and give a smile at the people passing by. The next stoppage at Ghum, where we saw the colourful monastery. Finally, the train reached Darjeeling station. We ended our journey with this train around 5 p.m.
This toy train has also gained UNESCO World Heritage recognition. Travelling by a toy train is the best way to enjoy the charm of Darjeeling with your family, friends or loved ones.