Fairs and Festivals of India Reflect its Rich Cultural Heritage
The incredible country like India can be best described by the phrase 'Unity in Diversity'. India is a land of rich cultural heritage which beautifully reflects in its various attractions. The various states of India have their own unique culture. Although there is so much diversity in culture of India but still there is unity among Indians. Fairs and festivals are among the most colorful part of Indian culture. They are also the perfect means of getting acquainted with the culture of India.
It would be no exaggeration to say that India is a land of fairs and festivals as its calender is full of various fairs and festivals commemorating various occasions. Fairs and festivals of India attract tourists from across the globe.
Some of the most famous fairs and festivals of India are:
Diwali
It is the festival of lights which is celebrated with great flavor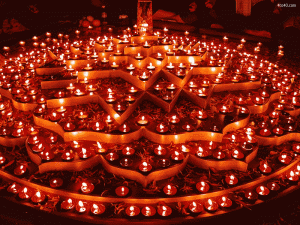 Diwali
throughout India. Symbolizing the victory of good over evil, this festival commemorates Lord Rama's return to his kingdom after 14 years of exile. On this festival people illuminate their houses with earthen lamps and lights, distribute sweets, burn crackers and worship Goddess Lakshmi. This festival falls in the month of October or November.
Navratri
This festival is celebrated for nine days in honour of the goddess. The goddess symbolizes power. During these nine days nine forms of the goddess are worshipped and devotees observe fast for nine days. The goddess is known by several names like Durga, Laxmi, Bhavani, Kali, chandika, Maha gauri, Ashtabhuja and Siddhiratri. All the nine forms signify various traits that the goddess influences us with.
Holi
It is a festival of colours which is celebrated with great enthusiasm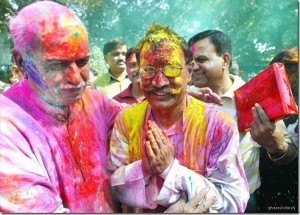 HOli
especiallyin North India. During this festival people play with powdered colours and water. Huge bonfires are lit on the evening of Holi. This festival also symbolizes the victory of good over evil. There is an interesting legend associated with it.
Pushkar Fair
It is the largest cattle fair in the world. Held in Pushkar City of Rajasthan it is marked with several cultural activities like dance, music, competitions and many more. It is celebrated in October/November.
Pongal
It is an important festival of South India which is celebrated for four days. It is a harvest festival. During the festival cattle, Sun god and Rain god are worshiped.
Eid-ul-Fittr
It is an important festival of Muslims which marks the end of Ramzan, the Muslim month of fasting. During the festival people exchange greeting and sweets and offer prayer in mosques. Feasting is the main feature of this festival.
Desert Festival
This is a famous festival of Rajasthan which is celebrated with great enthusiasm in the city of Jaisalmer. During the celebration the desert comes alive with cultural activities. Folk dance, puppet shows, turban-tying competition, camel race etc are the main highlights of the festival.