Chardham Yatra-Part II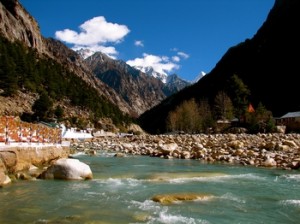 Gangotri
Early morning we set out on our journey to Gangotri. After reaching there we went for a holy dip in the holy river Ganga which is known as Bhagirathi at its origin. Gangotri is a revered Hindu pilgrimage which is also a source of sacred river Ganga. According to the legend king Bhagirathi spent several years in penance of Goddess Ganga to land on the earth. Hence the origin of river Ganga is called Bhagirathi.
We were completely mesmerized by the pristine beauty of Gangotri. Its beautiful and peaceful aura captured our hearts. Our guide told us that this destination is at an altitude of 3140 m above sea level. After Gangotri darsham we came back to Uttarkashi.
The next morning we drove to Rudraprayag and on the way we stopped at Tehri Dam where we enjoyed for some time. Rudraprayag is around 175 km from Uttarkashi. Rudraprayag is the confluence of river Mandakani and Alaknanda. We also visited the Chamunda Devi temple and Koteshwr temple which are 3 km from Rudraprayag. In the evening we checked in the hotel for a night stay.
The next morning we headed towards Kedarnath which is 75 km from Rudraprayag. We reached Gaurikund and from here one can either go on foot or by pony/Doli to Kadarnath. We opted to go by pony and the ride was enjoyable. At Gaurikund we took bath in the hot water pond and visited the Gauri temple. Gaurikund is the place where Goddess Parvati meditated to attain Lord Shiva.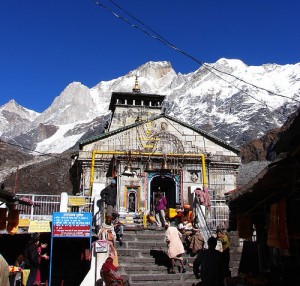 Kedarnath Yatra
Kedarnath Shrine is one of the 12 jyotirlingas of Lord Shiva. It offers breathtaking views of the majestic Kedarnath range. Kedarnath town is staggeringly beautiful place flanked by snow-capped mountains. In the early morning we visited the Kedarnath shrine and then trekked down to Gaurikund. Then we drove to Rudraprayag via Guptkashi and stayed in a hotel at Rudraprayag.
The next morning we drove to Badrinath via Joshimath. It took us around 9 hours to reach Badrinath. At one point of time Badrinath was dotted with wild berries. Thus it got the name Badri Van meaning forest of berries. The next morning after taking a bath in the Taptkund at Badrinath we went for darshan of Lord Badrinarayan at Badrinath temple. It is a mesmerizing pilgrimage center located at an average elevation of 3,415 m. After attending the puja we took a stroll around the temple and photographed the blissful surroundings. The other nearby attractions (within the range of 3 km) here are Mana, Vyas Gufa, Maatamoorti, Charanpaduka, Bhimkund and the 'Mukh' of the Saraswati River.
After covering the Char Dhams we returned to Delhi with golden memories in our heart and peace in our mind. We were completely mesmerized by the celestial beauty of these four destinations. They are beautiful beyond words.