Bandhavgarh Wildlife Sanctuary- Home Sweet Home Of Royal Bengal Tigers!
"Listen deep silence. Be very still and it is only then that you will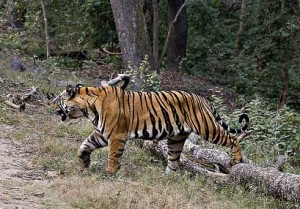 hear the sound of nature". And the Bandhavgarh Wildlife Sanctuary is the perfect place to experience nature at its best. It is one of the most wonderful sanctuaries in India. It is located ideally in the Umaria district of Madhya Pradesh. Sprawling over an area of 437 sq km, the Park was declared a national park in 1968. There are around twenty streams that flow through the park.
Once a hunting reserve of the royal family of Rewa, the park is the place where white tigers were discovered. In the year 1951, Maharaja Martand Singh of Rewa captured a white tiger here, which was named as Mohan. That white tiger is now stuffed and is showcased in the palace of the Maharaja of Rewa. However, no white tigers have been found here for the last 50 years. Now the park houses around 46 to 52 tigers. The park also boasts of a large population of leopards and various species of deer.
I opted for an elephant safari and ventured into the forest. I was told that elephant safari offers bright chances of sighting a tiger. While on the move in the forest, off and on I spotted nilgai, chital, wild boar, jackal, chinkara and chausingha.
As we moved further, my jaded eyes kept looking for the king of the jungle. Not able to control my anxiety level, I kept asking my guide Madho again and again about tiger. Sensing my eagerness to sight a tiger he smiled and said, " Sir, sighting a tiger is purely a matter of luck".
There are five ranges in the sanctuary namely Tala, Magdhi, Kallwah, Khitauli and Panpatha. However, tourists are allowed to explore only the Tala range, a range which houses maximum population of tigers of the sanctuary. With my binoculars I sighted beautiful birds such as orange-headed thrush, coppersmith barbet, browed fantails, green pigeons, black and white malabar hornbills. The sanctuary houses a variety of enchanting birds.
Well, my safari was coming to an end and I had almost lost all hope of sighting a tiger. But suddenly a royal Bengal tiger jumped over the road, very close to our vehicle. Oh God! It was a moment worth freezing.