Agra- The Brightest Jewel Of India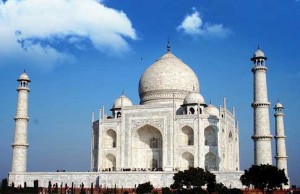 Tajmahal
Dip your pen in the ink of love
before writing about Taj Mahal
With every word, a pearl cocooned in love will fall…
Agra, the greatest pride of India Tourism, is a place that can be visited time and again. The monotony of my daily life was taking a toll on my sanity and I really needed, at least, a short break . So I and one of my friends, Shivani, decided to go to Agra. I had been to this wonderland once, when I was in school. Memories of my past visit filled my heart with joy.
Agra is a historic city with treasure-like attractions in its sleeves. Once the capital of the Mughals, Agra is an important destination of the Golden Triangle Tour circuit. Synonymous with Taj Mahal, this city attracts tourists from across the globe.
We reached Agra early morning and were booked in the Mansingh Palace Hotel. The hotel is named after Rajput Emperor Sawai Mansingh, a very close associate of Mughal Emperor Akbar. Post breakfast, we set out to see Taj Mahal, one of the seven wonders of the world. It was built by the Mughal Emperor Shah Jahan for his beloved wife Mumtaz Mahal. The breathtaking sight of Taj Mahal surrounded by beautiful lush green gardens festooned with fountains was such a rejuvenation to my sore eyes.
The interesting facts about this incredible monument are: the interiors were studded with precious and semi-precious stones, the architectural style is based on interlocking arabesque concept and uses the principles of self-replicating geometry. Its inlay work of floral designs and calligraphy are mesmerizing. The arresting structure is a perfect amalgamation of Mughal, Persian, Central Asian, and Islamic architecture. In fact, everything about this 'wonder' is fascinating and intriguing. This most sparkling jewel of India is soaked in glorious history.
After visiting Taj Mahal, we decided to go for lunch and then shopping. From here we head to Clark Shiraz, the five star hotel, to have lunch in its wonderful restaurant. We dined at its roof-top restaurant, the Mughal Rooms, and enjoyed the bewitching views of Taj Mahal along with the lip-smacking dishes.
Post lunch, we invested a few hours in shopping. Agra is famous for its inlay work, marble articles, leatherware, brassware, carpets and jewellery. We explored the Sadar Bazar and Kinari Bazar and bought some wonderful handicrafts. After shopping we traced our steps back to the hotel. We chatted till late night and finally forced ourselves to retired to bed as we had to leave the next day to cover the rest of the attractions of Agra.