Agra Tour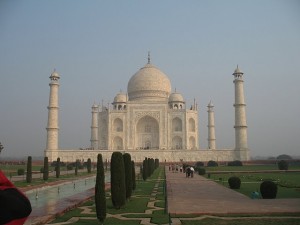 TajMahal
Agra has always fascinated tourists from across the world with its extraordinary 'Taj Mahal' and I am no exception. In fact, it is one place in India where I can go millions of times. The beauty and aura of Taj Mahal and other places of interest near this Mughal city have something special about them which bring me here time and again. This time I had come to this world famous city with my colleagues. They were visiting Agra for the first time and I for the fifth time.
After an easy train journey of two and a half hours we reached Agra from Delhi in the late evening. Agra is the most visited tourist destination of India and is also a part of the Golden Triangle Tour (the most famous tour of India). The Golden Triangle Tour is very famous among international tourists. We were booked in the Mansingh Palace Hotel which is one of the finest hotels here. This hotel got its name from the Rajput Emperor Sawai Mansingh who was a very close associate of Mughal Emperor Akbar. We visited Taj Mahal in the early morning to catch the glimpses of this incredible monument in the first gleam of morning rays.
Taj Mahal is considered the finest masterpiece of Mughal architecture and is recognized as one of the Seven Wonders of the World. It is also a World Heritage Site. It was built by the Mughal Emperor Shah Jahan in the 17th century in memory of his beloved wife Mumtaz Mahal. It is a mausoleum located on the west bank of river Yamuna. This grand edifice was completed in 20 years and around 20,000 workers worked day and night to make it what it is today.
The interiors of this majestic monument were studded with more than 28 types of precious and semi-precious stones. The architecture of Taj Mahal is a fabulous synthesis of Indian and Persian styles. Its lattice work, inlay decorations, calligraphic representations and incised painting deserve special mention. The calligraphy of this monument mainly consists of the verses and passages from the holy book of Kuran.
After admiring the beauty of Taj Mahal we sat in the garden surrounding the monument for some time. It was truly such a refreshing experience to visit Taj Mahal. We enjoyed eating at the local shops in the market. We also bought petha, the famous sweet of this city. And then we shopped for leather ware, marble statues, carpets and artificial jewelry at bargained rates from the bazaar. It was such a delight!