Adventure Sports Options Galore in India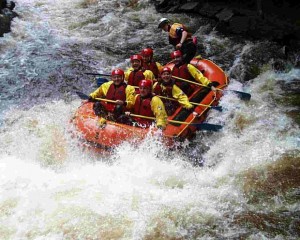 River Rafting
Adventure means different things to different people. For me exploring any part of this world is in itself an adventure and for my best friend Shivani adventure is synonymous with adventure sports like river rafting, trekking, biking and much more. So we decided to take an adventure tour of India to enjoy the beauty and adventure of several tourist destinations of India. We enjoyed river rafting, trekking, skiing and many more activities. We were rejuvenated to the hilt.
India is an incredible land offering a slew of adventure sports facilities for adventure lovers who come here from across the globe. Some of the famous adventure sports of India are:
Rock climbing
This interesting adventure activity can be best enjoyed at Manali in Himachal Pradesh, Mysore, Ramanagram in Karnataka, Bangalore, Mount Abu in Rajasthan, Panchmarhi in Madhya Pradesh and Gangotri gorge in Uttar Pradesh.
Mountaineering
This challenging activity is meant only for the brave hearts and physically fit people. The Himalayan range of India is perfect for this sport and several other adventure sports. Kamet and Dunagiri (7088) and Nanda Devi (7800 m) are the most popular destinations for mountaineering in India.
White water rafting
Full of thrill and adventure this adventure sport can be best experienced at the following destinations- River Ganges,tons, Bhilangana, Yamuna, Mandakani, Kalisor, Zanskar, Beas, Alaknanda and Mandakani.
Trekking
This is one adventure activity which can be enjoyed by almost all tourists. Some of the best places for trekking are Kullu, Kinnaur, Ladakh, Spiti, Lahaul, Garhwal, Kumaon and Sikkim.
Angling and Fishing
The lakes of Kashmir, streams of Kerala and the lakes of the upper Himalayas offer great opportunities for fishing and angling.
Safaris
Travel to Jaisalmer in Rajasthan for enthralling camel safari on the unfathomable sand dunes. And if you wish to enjoy elephant safari, Kerala is the best place. The wildlife destinations of India also provide facilities for elephant safari.
Paragliding
For enjoying the thrill of paragliding visit the places such as Darjeeling, Solang valley, Auli, Gangtok, Sansar and Goa.
Skiing
A big hit with tourists skiing can be best enjoyed at Gulmarg, Kufri, Manali and Mundali.
Motor biking
It is an interesting way of exploring some tourist destination of India like Delhi, Agra, Jaipur, Udaipur, Bikaner and Mandawa.
There are several more adventure sports and activities which India offer. Adventure sports options galore here!